Read the information below to discover more about SenseAbility in Minneapolis, MN, by Interference Arts.
Contact us to find out more about our performance dates.
Craig Harris brought his multimedia dramatic work SenseAbility to the Open Eye Figure Theatre stage as part of their Platform Series September 29 – October 1, 2017, to explore how our personal experiences and cultural narratives help us navigate our ongoing struggle to make the world a better place. Inspired yet haunted by the voice of Elijah, Harris invites the Prophet of all time into our time, imagining him on a shared journey of transformation.
Harris weaves music and visual textures with his memories of Bethlehem and new family connections in the West Bank. The show is about individual and community responsibility and accountability.
In SenseAbility an immersive sensory landscape surrounds the audience with the sounds, sights, smells, tastes… even the touch and feeling revealed in the visceral experience that is inescapable in a life under sustained occupation. How is destiny revealed in the face of scarcity and uncertainty? How is resilience, even joy, possible under such challenging circumstances? Can we imagine the Prophet Elijah as another sojourner on our pathway toward greater understanding? Despite a constant struggle to be one's best self in the malaise of loneliness, doubt and oppression, Elijah beckons us to take up our mantle and discover what is possible.
Two stories converge in this show:
Elijah in the Wadi is an exploration of the life and character of the Prophet Elijah, an iconic figure in the Abrahamic religions. Elijah is a witness and an activist who speaks truth to power, has a deep connection to his people, and is a fierce advocate for those who are disenfranchised. Carried away in a whirlwind, he travels through his time, our time and all time. Elijah makes appearances at every Sabbath everywhere in every household each week, at Passover at every Seder every year, and at key moments in human development. In his omnipresence, Elijah represents each of us in our constant struggle to be our best selves and our striving to make the world a better place in spite of loneliness, doubt, and oppression. Elijah in the Wadi was commissioned by the Right Here Showcase and was presented at Illusion Theatre in April 2016.
For more information about Elijah in the Wadi, including a video sampler of the 2016 performance:
Elijah in the Wadi Project Description and Video Sampler.
Making Sense reflects on recent trips and new family connections in Bethlehem, West Bank. using our human senses of sound, sight, smell, taste, touch, and feeling to explore life under sustained occupation, and to celebrate joy and resilience under challenging circumstances. A vast wave of new sensory input during these stays in the West Bank provided many opportunities to evaluate existing narratives and assumptions, and to examine how one's values are in alignment with one's actions in the world.
Here are three video excerpts from SenseAbility:
Dheisheh Camp Meets Minneapolis
The excerpt "Dheisheh Camp meets Minneapolis" explores personal and community relationships in Dheisheh Refugee Camp in Bethlehem (West Bank) and in Marcy Holmes neighborhood in Minneapolis (Minnesota USA).
Elijah Moments
The excerpt "Elijah Moments" presents moments from Harris' show Elijah in the Wadi, depicting the experience of the Prophet Elijah in isolation in the desert while hiding from those seeking to kill him.
The excerpt "Sensory Fusion" depicts when our fragmented senses merge into a sense of cohesion, 'when it all makes sense'.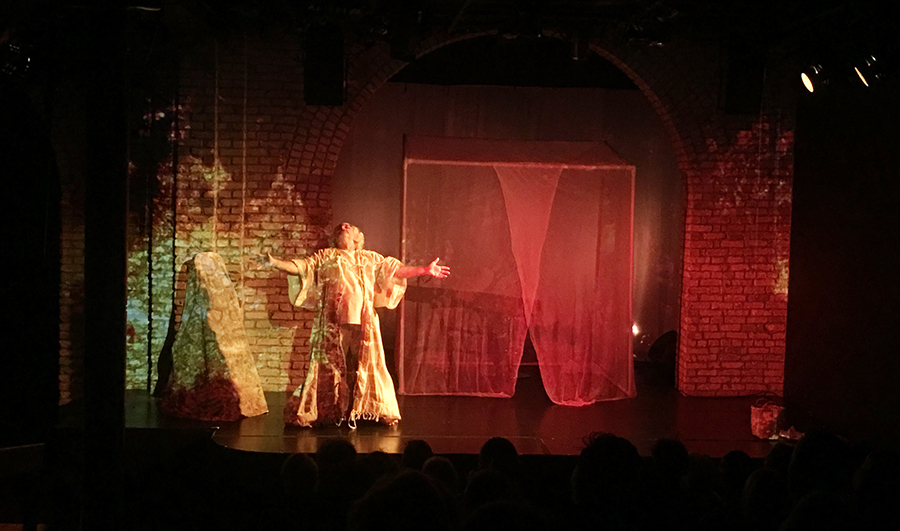 Learn more about Craig Harris' experiences in Bethlehem/West Bank: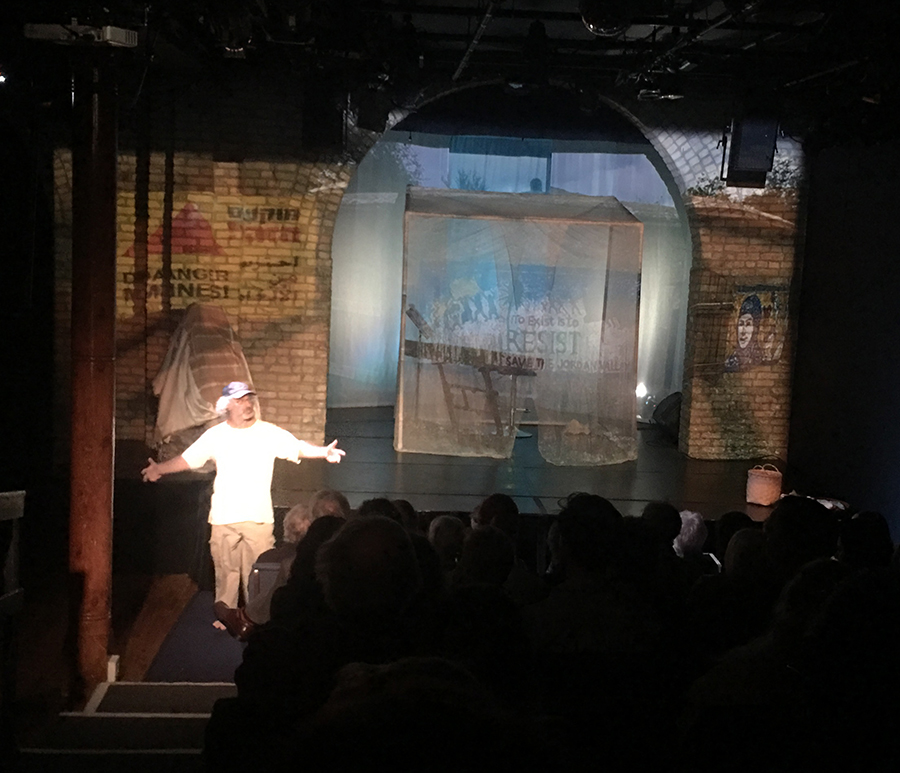 Max Sparber wrote this article about SenseAbility for American Jewish World.
Dixie Treichel created this profile of Craig Harris for the radio station KFAI.
SenseAbility Artistic Collaborators
Conceived, Written, Composed and Performed by Craig Harris
Direction & Story to Stage Collaboration by Kym Longhi
Projection Design, Installation & Story to Stage Collaboration by Jim Peitzman
Costumes, & Digital Illustration by Candy Kuehn
Lighting Design – Mike Grogan
Sound Design – Sean Healey
Recorded Cello – Randall Davidson
Thanks to Open Eye Figure Theatre Executive Artistic Director Sue Haas and the entire Open Eye staff for the opportunity to bring SenseAbility into the world.
Visit here to learn more about the mission and programs of Open Eye Figure Theatre.
This project was made possible with support from the Howard B. & Ruth F. Brin Jewish Arts Endowment, a fund of the Minneapolis Jewish Federation's Foundation.
Thanks to Rimon: The Minnesota Jewish Arts Council for their support of Elijah in the Wadi.