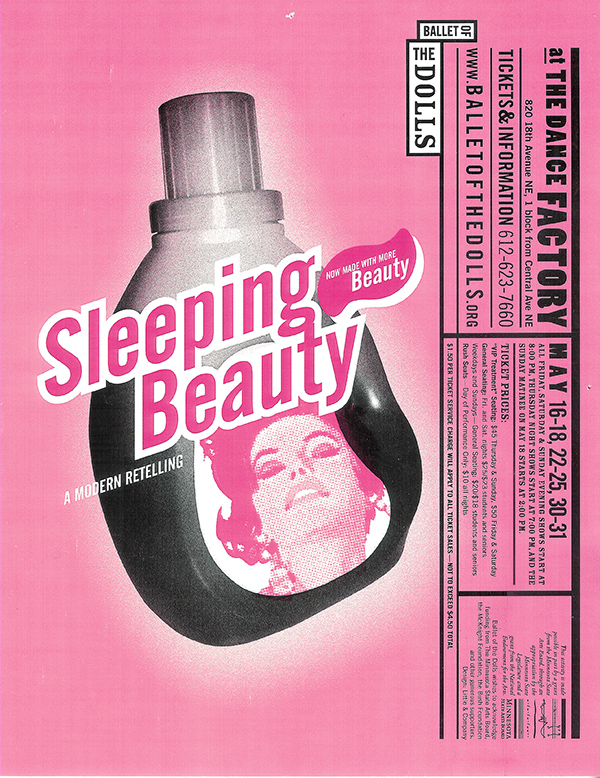 Reimagining Sleeping Beauty is Craig Harris' ballet suite revisiting the Sleeping Beauty fairy tale. In this scenario the Prince does not release Sleeping Beauty from her deep sleep with a kiss, and then live happily ever after together. In Reimagining Sleeping Beauty, Sleeping Beauty remains in hibernation in the middle of the forest until she is found after 100 years, and she is put on exhibition in a museum. Sleeping Beauty awakens and finds herself in our current era, faced with confusing notions about beauty and meaning in life. Created in 2003, this project was originally developed in collaboration with Artistic Director/Choreographer Myron Johnson and dance-theater company Ballet of the Dolls, and produced at the company's space The Dance Factory. Reimagining Sleeping Beauty has been adapted from that original scenario.
---
Beauty is Sleeping
As the story is told, Sleeping Beauty pricks her finger on a spinning wheel, and falls into a deep sleep. This version of the story begins with Sleeping Beauty in a deep state of hibernation deep in the forest.
---
The Museum
Sleeping Beauty has been found in the modern era, sleeping in her casket deep in the forest, and is placed on display in a museum. Visitors to the museum listen on headsets to stories about her origin and to academic research about the meaning of the story. They consider Sleeping Beauty's existence as a beautiful woman preserved in a long term coma:
"She looks so alive!"
"Do you think she can hear us?"
"What do you think she dreams about?"
"There's no life without Beauty."
---
Beauty Awakens
Sleeping Beauty awakens after 100 years in hibernation, finds herself alone in a dark museum, and tries to come to terms with her new situation.
---
The Royal Family
Sleeping Beauty remembers her former existence as a princess in the royal family 100 years ago.
---
Makeover
Sleeping Beauty goes through a "Makeover" – a transformation from her former existence as a princess in a royal family from a long past era, to a beautiful young woman seeking meaning in the modern era.
---
Beauty Is…
Where did Sleeping Beauty come from, and what is her story?
What is the meaning and essence of Beauty?
Who is Beautiful?
Does Sleeping Beauty have a place in the modern world?
Sleeping Beauty decides that modern ideas about Beauty and meaning in life are fleeting and superficial, and that she has no place in the modern world. She returns to her casket, relives the experience pricking her finger on the spinning wheel, and falls back into a deep sleep, perhaps to reawaken sometime in the future when the world has become a more welcoming and meaningful place.
---
Deep Sleep
---
Was Sleeping Beauty's experience real, or was it all a dream?
---