Interference Arts creates and produces Harris creates multimedia dramatic stage works, interactive sculptural environments, and creative story spaces. Composer and Artistic Director Craig Harris' work appears on the concert stage, in dance and theater, in multimedia performance and presentation, in film, and in interactive installations. His aim is to create immersive sonic universes and multimedia experiences that are anchored in the familiar, but transport the audience's sense of time and presence into new and unknown territory.
Read about projects by Interference Arts, which include multimedia dramatic work projects Minneapolis, MN, below.
Contact us to find out more about our work.
GONE – a suite about loss
GONE is a suite that explores the intense emotional terrain of loss.
The loss of a loved one is accompanied by intense emotional upheaval, filled with complex feelings and memories. The sense of loss can be interpreted more broadly, to include loss experienced through major life changes, even loss resulting from what we experience in the world of the COVID pandemic – loss of our sense of normality, our sense of human connection, potentially loss of income or physical/emotional stability.
GONE can be experienced as a work for live music and/or multimedia performance/installation, recorded music, and video presentation. Video imagery for the multimedia version was created in collaboration with visual artist Candy Kuehn.
---
Music Box Variations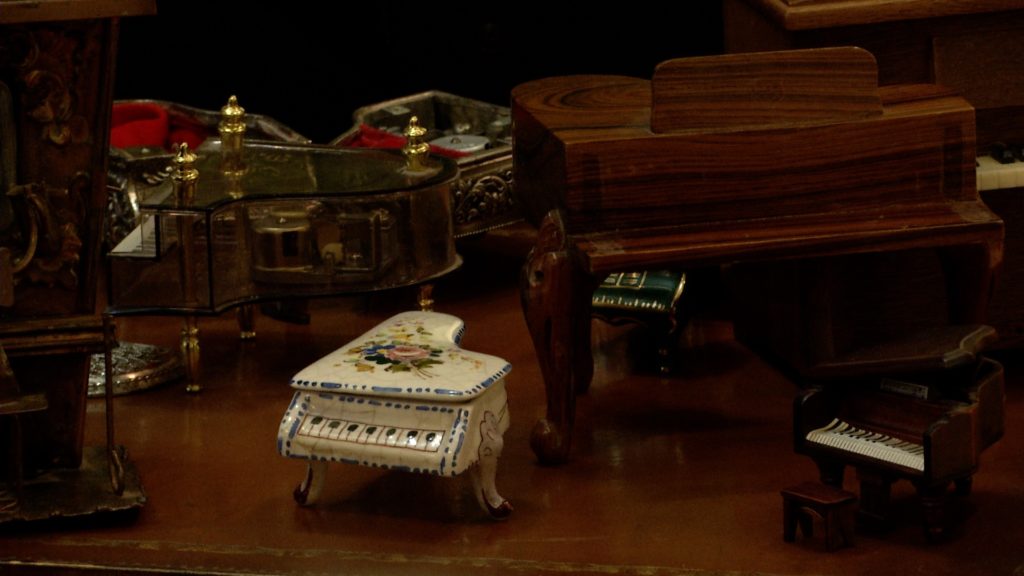 Music Box Variations is a series of compositions originally created for Untether 3, Craig Harris' third solo keyboard concerts presented at Homewood Studios in Minneapolis, MN on September 10, 2019. In this concert series Craig revisits music created for dance and theater shows throughout his career – revitalizing it, creating new work based on raw materials from these shows, and presenting new compositions currently in development. Music Box Variations II was developed for and performed at Untether 4, the fourth concert in the series.
Find out more about Music Box Variations.
---
SenseAbility
Craig Harris' brought his multimedia dramatic work SenseAbility to the Open Eye Figure Theatre stage as part of their Platform Series in 2017 to explore how our personal experiences and cultural narratives help us navigate our ongoing struggle to make the world a better place. Inspired yet haunted by the voice of Elijah, Harris invites the Prophet of all time into our time, imagining him on a shared journey of transformation.
Harris weaves music and visual textures with his memories of Bethlehem and new family connections in the West Bank. The show is about individual and community responsibility and accountability.
In SenseAbility an immersive sensory landscape surrounds the audience with the sounds, sights, smells, tastes… even the touch and feeling revealed in the visceral experience that is inescapable in a life under sustained occupation.
Find out more about SenseAbility.
---
Elijah in the Wadi
Elijah in the Wadi is a multimedia dramatic work exploring the life, times and character of the Prophet Elijah, an iconic figure who appears in the stories of all three Abrahamic religions – "the People of the Book." The Prophet Elijah is a witness, and an activist. Elijah's stories have an epic quality, while preserving the highly personal relationships that he has with people from all walks of life. He speaks truth to power, has a deep connection to his people, and is a fierce advocate for those who are disenfranchised. He spends long periods of time in isolation, escaping and hiding from repeated threats against his life, and he struggles with periods of intense doubt and desperation.
Elijah in the Wadi focuses on Elijah's personal experience as an individual dealing with issues of enormous responsibility, extreme challenge, and isolation. Elijah in the Wadi was produced at Illusion Theatre April 8-10, 2016, as part of The Right Here Showcase, an annual juried platform that supports Minnesota-based, mid-career contemporary performing artists, introducing new audiences to their work.
Find out more about Elijah in the Wadi.
---
It is She Who I See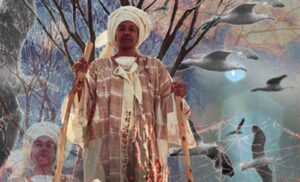 It is She Who I See is an immersive multimedia performance that celebrates the original woman who is in all of us, launching an exploration of gender imbalance that permeates societies all over the world. It is She Who I See emanates from two sources: a digital illustration created by artist Candy Kuehn that provides the show title, and a poem by renowned poet Rita Dove – "The Hill has Something to Say".
The illustration represents the original woman whose DNA carries forward into all of us through time. The poem expresses the depth and meaning of all that has unfolded through time on the hill, and reinforces the thread that holds all time together in us. The show was produced at the Ritz Theater in November 2012.
Find out more about It is She Who I See.
---
Five Books Choral Suite
The Five Books Choral Suite offers windows into some of the stories and predominant themes found in the Five Books of Moses, the Old Testament. Moses (baritone) is the storyteller, conveying the history of his people's path, and leading them through the wilderness. The Soprano soloist represents the individual "spokesperson" for the people. The concept of deity in the Five Books Choral Suite is neither gender-specific nor gender-neutral. Rather, it might be considered as a gender-full representation. The male bass can be viewed in the more traditional perspective as a male God figure; the alto singer represents a female counterpart – a kind of Mother Earth or feminine divine Shekhinah figure – like two sides of the same coin.
Find out more about the Five Books Choral Suite.
---
Five Books: First Series – the Journey
Five Books: First Series – the Journey is an oratorio composed and produced in 2008, under a commission from the Sabes JCC Center for Jewish Arts and Humanities. The oratorio presents a series of reflections on the Five Books of Moses, viewed through the eyes of Moses as he travels along his life's path, and as his life's work unfolds. The work explores Moses' role as a leader and a mediator between God and his people, and probes his personal challenges as an individual called to act.
Find out more about Five Books: First Series – the Journey.
---
Babel Clarion
Babel Clarion, for chorus and carillon, was premiered at the River Bells Music Festival in Minneapolis on May 4, 2013. Based on the composition Babel Lament, from the Five Books Choral Suite, Babel Clarion emanated from the Westminster Chimes speakers in the tower at First Congregational Church throughout the Marcy Holmes Neighborhood of Minneapolis.
The composition Babel Clarion, for Carillon and Chorus, merges carillon sounds and voices, infusing the neighborhood with something different than what is expected. The text is derived from the Tower of Babel story, a tale that appears in various forms in the history of several cultures.
The composition was commissioned by Marcy Holmes Neighborhood Association, with funding from the University of Minnesota Good Neighbor Fund.

Find out more about Babel Clarion.
---
Tzedakah Box II
In many cultures, there is a tradition of charity. However expressed, a spiritual aspect of charity is often central to the society's concept of love, justice, and ethical behavior, linking the individual and the individual act of giving directly to the social fabric.
In Tzedakah Box II the individuals offer the gift of experience, wisdom and personal stories — their innermost thoughts, most poignant moments and deep insights. True to the essence of Tzedakah, the offering is more than an act of charity; it is their responsibility as a member of society. This is a celebration of the interaction that integrates the individual into his or her community in a way that respects the value of what everyone has to offer, and provides an opportunity to listen and learn.
Find out more about Tzedakah Box II, including a video walk-through of the installation.
---
Collaborations
Interference Arts and Artistic Director Craig Harris collaborate with artists and arts organizations on a variety of projects.
Find out more about collaborations on such projects as Off-Leash Area's Dancing on the Belly of the Beast & AfterWind, Zorongo Flamenco Dance Theatre's ConVivir – 7 Dances to a More Compassionate World, Why We Laugh, and others here.
---