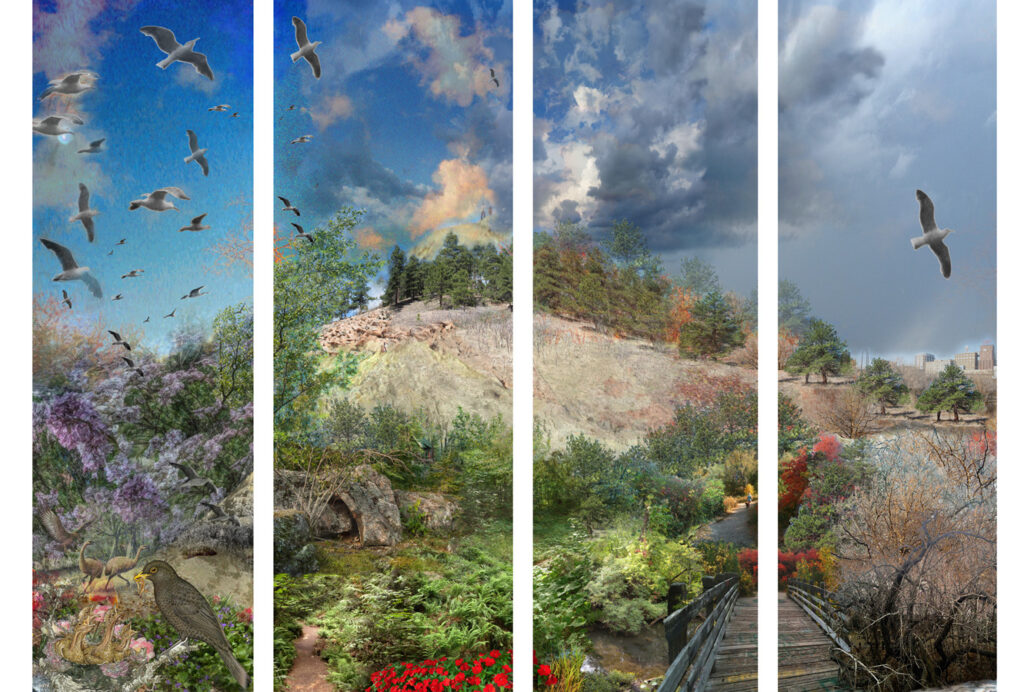 This is Rita Dove's poem "The Hill has Something to Say," the source for Craig Harris' music composition for Soprano, Piano and Amphora. 
The poem expresses the depth and meaning of all that has unfolded through time on the hill, and reinforces the thread that holds all time together in us. This work was commissioned for soprano Renée Fleming, and premiered in 2000 at Alice Tully Hall, Lincoln Center, with Richard Bado on piano, on a concert of live American composers.
Learn more about this composition here.
          The Hill Has Something to Say
                   Rita Dove

              but isn't talking.
       Instead the valley groans as the wind,
                 amphoric,
           hoots its one bad note.
         Halfway up, we stop to peek
     through smudged pine: this is Europe
          and its green terraces.
                     ~
            and takes its time.
      What's left to climb's inside us,
          earth rising, stupified.
                     ~
         : it's not all in the books
           (but maps don't lie).
            The hill has a right
           to stand here, one knob
       in the coiled spine of a peasant
        who, forgetting to flee, simply
              lay down forever.
                     ~
            bootstrap and spur
          harrow, and pitchfork
             a bugle a sandal
            clay head of a pipe
                     ~
             (For all we know
        the wind's inside us, pacing
         our lungs. For all we know
         it's spring and the ground
        moistens as raped maids break
         to blossom. What's invisible
          sings, and we bear witness.)
                     ~
         if we would listen! Underfoot
          slow weight, Scavenger Time,
           and the little old woman
            who lives there still. 
The Hill Has Something to Say was underwritten by the American Composers Forum, with funds provided by the Jerome Foundation, and by the Hanson Institute for American Music. "The Hill Has Something to Say" from Museum: Poems by Rita Dove, Carnegie Mellon University Press, Pittsburgh, PA. © 1992 by Rita Dove. Reprinted by permission of the author.