On the 7th Day 3 (3 of 5), from the Five Books Project (Digital Illustration)
$115.00 – $150.00
"On the 7th Day 3 (3 of 5)" – Digital illustration for Craig Harris' Five Books Project.
Description
On the 7th Day 3 (3 of 5), from the Five Books Project (Digital Illustration)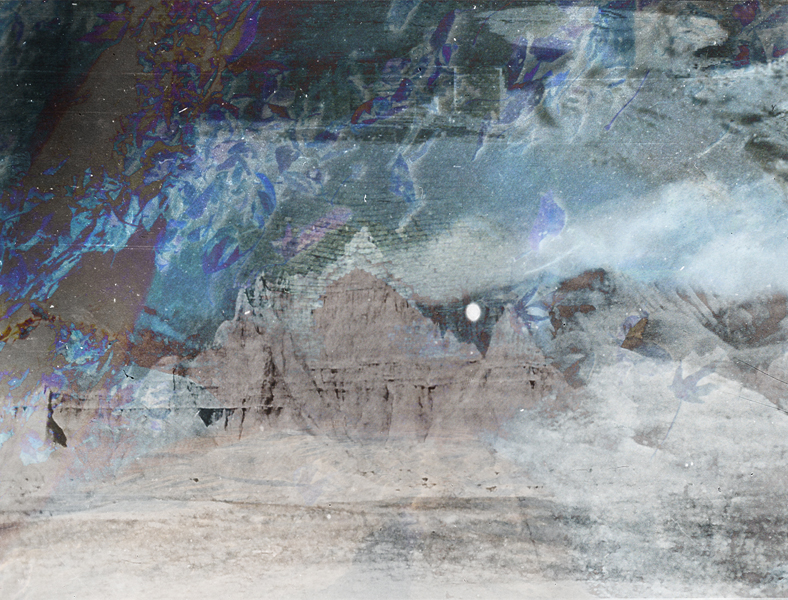 Craig Harris, Candy Kuehn and Damian Day collaborated to create digital illustrations for projection design for Harris' multimedia oratorio Five Books: First Series – the Journey. The show is a series of reflections from the Five Books of Moses, portraying Moses leading his people out of the wilderness. During the performance digital illustrations were projected onto a collection of translucent scrims hung on the stage, incorporating a multi-projector project design to create a rich immersive visual environment.
On the 7th Day is a series of  five digital illustrations designed to portray the creation story in Genesis 2:2 of the Five Books of Moses. The 7th Day is a holy day designated to pause and reflect on the previous six days of creation.
Commissioned by the Sabes JCC Center for Jewish Arts and Humanities, Five Books: First Series – the Journey was produced at the Sabes JCC's Dolly & Edward Fiterman Theatre in March 2008.
Learn more about Craig Harris' Five Books Project.
"On the 7th Day 3″ (3 of 5) is available as a print, and also as a downloadable high resolution image for printing. It can be printed on a color printer as desired for personal use – on home printers, professional printers – and can be hung unframed or framed as desired. The size of this image is 21″ x 16" at 300 ppi (53.34 x 40.64 centimeters).
About Candy Kuehn Digital Illustrations
Candy Kuehn provides the following insights into her printing process to assist in producing the best results for printing and/or framing these prints: "I use Digital Fine Papers when printing my work. My favorites are Innova, Hahnemulle, Cansons  Infinity and Epson Fine Art Papers. My large works use roll papers – Epson Premium Photo Luster or Epson Legacy Baryta. My print files fit sizes A3 (13" x 17") and A4 (17" x 22"), though some files are created for larger format printing. I download ICC profiles and follow prompts to install the profiles from the paper's manufacturer's guidelines. I use Adobe Photoshop as my go to editing program. I also test on one piece of paper; print and cancel; then try another setting turning the paper upside down, print and cancel until I am satisfied with the print results. (If you have a photo editing program, strips can be done that way as well.) For professional online printing, two options are Shutterfly.com and snapfish.com. I also use local professional art printers in Minneapolis, such as Artist Resource Group (artist-grp.com). Owner Terry Schopper's knowledge is exceptional and brilliant."
Please allow 4-6 weeks for printing and shipping of prints. Prints are printed on demand, and we need to coordinate schedules with our high quality artwork printers. Please contact us about any special needs and we will try to accommodate.
---
Return to the main Interference Arts Shop page.
Additional information
| | |
| --- | --- |
| Weight | 3.25 oz |
| Dimensions | 21 × 16 in |
| On the 7th Day 3 (3 of 5) | Print, Download |