Elijah in the Wadi Opens Friday at the Right Here Showcase
Interference Arts Artistic Director Craig Harris' latest multimedia dramatic work Elijah in the Wadi appears this weekend (April 8, 9, 10) in The Right Here Showcase at Illusion Theater in Minneapolis. Elijah in the Wadi explores the character, stories and life of the Prophet Elijah, and focuses on Elijah's personal experience as an individual dealing with issues of responsibility and isolation. Harris' work resides between the poetic and narrative realms, integrating original music, evocative soundscapes, immersive visual projection, movement and acting.
WHO IS ELIJAH?
The Prophet Elijah is a witness, and an activist. His stories have an epic quality, while preserving the highly personal relationships that he has with people from all walks of life. He speaks truth to power, has a deep connection to his people, and is a fierce advocate for the marginalized. Elijah is an iconic figure in the Jewish, Christian and Muslim traditions.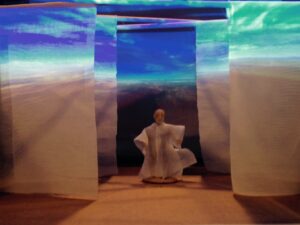 Elijah lives in his time, our time, and all time. As the story goes, Elijah makes appearances at every Sabbath in every household each week, at Passover at every Seder every year, and at key moments in human development. Some believe he joined Moses at the transfiguration of Jesus, and will be present as a herald to the coming of the Messiah. His presence serves as a reminder to bring our highest selves into our work and interactions with our fellow humans.

Elijah in the Wadi Collaborators
Written and Composed by Craig Harris
Pearce Bunting Elijah & Story to Stage Collaboration
Randall Davidson: Cello & Story to Stage Collaboration
Jim Peitzman: Video Design & Story to Stage Collaboration
Candy Kuehn: Costumes, Digital Illustration & Story to Stage Collaboration
Tim Donahue: Live Sound Mix Performance
Mike Grogan: Lighting Design
Production Associates: Benjamin Davidson, Robert Wood & Maya Owda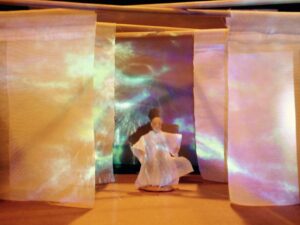 Elijah in the Wadi – the Seed of Conflict appears at the Illusion Theatre April 8-10, 2016, as part of The Right Here Showcase, an annual juried platform that supports Minnesota-based, mid-career contemporary performing artists, introducing new audiences to their work. Interference Arts' Artistic Director Craig Harris says this about his participation in The Right Here Showcase this year: "I'm grateful to have received one of the 2016 commissions, as well as a commission from the Southwest Center for Jewish Culture supporting the development of this work."
Dance artist Megan Mayer also appears on the program on the same evening with a new work for dance, This is Supposed to be My Fertile Window.
WHAT:  Elijah in the Wadi @ the Right Here Showcase
WHEN:
April 8th at 9pm
April 9th at 7:30pm
April 10th at 9pm
WHERE:
The Illusion Theater @ The Cowles Center
Admission is through a Suggested Donation of $10-$30.
CLICK HERE FOR MORE INFORMATION
PRESS CONTACT:
Artistic Producer Paul Herwig